Block Party by Brodas Bros. James Brown tribute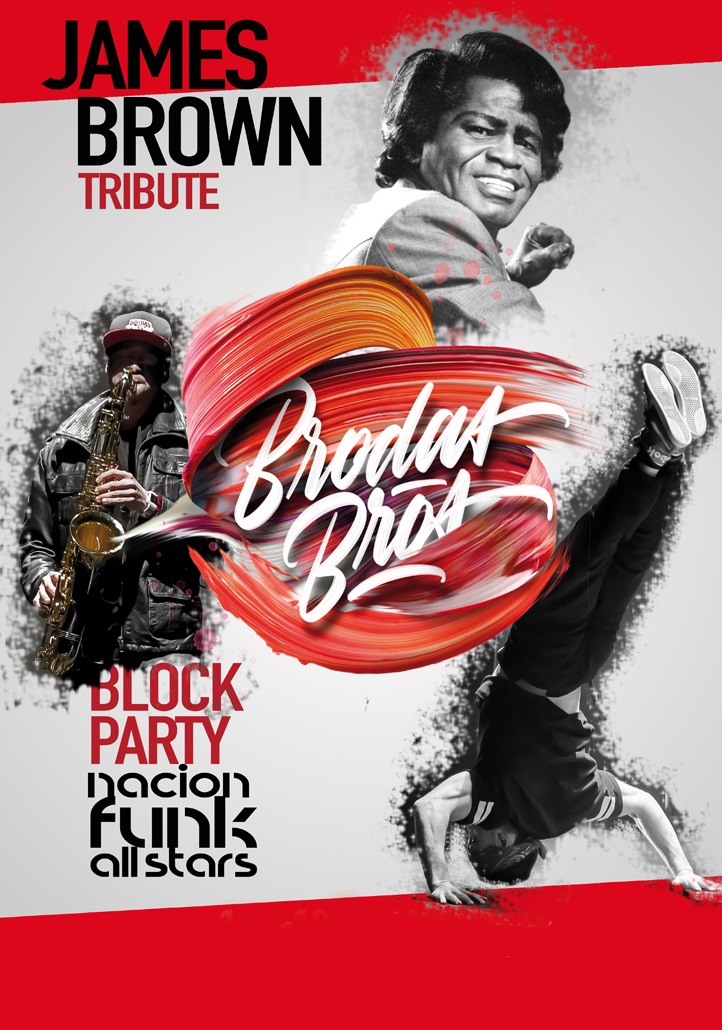 Espectáculo disponible en catalán, castellano e inglés
Bailarines Berta Pons, Clara Pons, Pol Fruitós, Lluc Fruitós, Marc Carrizo
Banda en directo Nación Funk All-stars feat Michel Clavero

Lalo López, guitarra y voz
Guilliam Sons, flauta, saxo tenor y voz
Roger Martínez, saxo alto
Marc Benaiges, batería
Adri González, teclado

Dirección artística Lluc Fruitós
Producción ejecutiva Sara Manzano y Marta Guzmán
Producción Brodas Bros
Management Marta Guzmán
Block Party by Brodas Bros. James Brown tribute

Un concierto homenaje a la música negra, una fiesta animada por la danza espectacular de BRODAS BROS y conducida por la banda NACION FUNK ALL STARS capitaneada por LALO LOPEZ (Fundación Toni Manero).
6 bailarines, 6 músicos y 2 cantantes traerán al teatro la energía del Hip Hop que nació gracias a las fiestas Block Party que empezaron a organizar DJ's de Nueva York cómo Cool Herc, Africa Bambata o Grandmaster Flaix.
Después de hacer "Pere i el llop" con música clásica, "Vibra" con percusión, "Br2" con electrónica… Brodas Bros vuelven a los orígenes del funk de los 80: James Brown, Aretha Franklin, Kool & The Gang y muchos más. Con hits como "Sex Machine", o "Think" ¡os harán saltar de la butaca y bailar!
Un espectáculo altamente participativo, un concierto dónde los espectadores son libres de levantarse, bailar y cantar cuándo les apetezca.
Peace, Love, Unity and Having Fun!!!
También te puede interesar